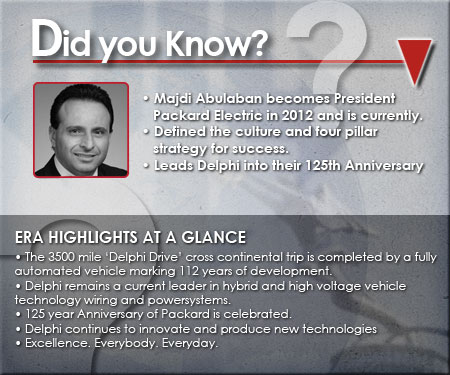 PACKARD ERA OVERVIEW
A vehicle's electrical/electronic system is implemented and defined by its architecture, and over the last 20 years, the amount of wiring and cable in vehicles has more than doubled.
By 2013, there are more than 2 million full or partial electrically powered vehicles in the world, and the need for greater safety, efficiency, and connectivity is becoming apparent. Leading the charge for this revolution is an auto part manufacturer with roots in electrification that extend more than 125 years: Packard Electric.
With developments like in-vehicle wireless device charging, whole-vehicle wireless charging, aluminum cable, connected infotainment systems, and autonomous driving, Packard is poised for another 125 years of innovation.

AIMING HIGH - MONUMENTAL BENCHMARKS AND FUTURE OUTLOOK


With the purchase of MVL, Delphi Packard continued to push forward in both growth and innovation, propelled by electrification and an ever-increasing volume of vehicle content. In 2013, the global market for electric vehicles resembled the auto industry of 100 years ago, with fewer than 3 million vehicles produced in total, but much like it was a century ago, that trend was set for change.
In the U.S. alone, fuel economy regulations were set to increase to 54.5 MPG by 2025, forcing a need to lighter, more fuel efficient cars. Packard innovations like aluminum cable, which reduce weight, in combination with Hybrid Vehicles like the Chevy Volt help to attain this standard. Vehicle demands not only encompassed efficiency, but connectivity as well. In 2014, Packard acquired automotive technology innovator 'Unwired Technology', a developer of automotive media connectivity. These connectivity products provide two-way data connections between smartphones and tablets and in-car infotainment systems, allowing consumers to safely access content in the vehicle. These media connectivity modules can handle multiple devices, provide high-speed charging capabilities and enable seamless access to content through emerging infotainment software solutions.
Connected vehicles with infotainment capabilities not only require integration, but power as well. Packard innovations in wireless device charging help supply this power, while still allowing passengers the freedom they desire.
This wireless device charging is no longer limited to small scale internal vehicle systems, as Packard innovation in wireless vehicle charging is paving the way for whole vehicle charging as well.
Flawless High-Voltage internal electrical systems are at the core of this electrical architecture, and powered by none other than Automotive News PACE award winning Packard technology such as the ErgoMate connector.
As the need for safer, greener, and more connected automobiles continues to increase at an exponential rate, it only takes one look at the history of Packard to see where the roots of innovation began, and where they continue to grow to this day. In April of 2015, a Delphi Autonomous Vehicle did something no other car had ever done by completing a 3,500 mile journey from San Francisco to New York using a combination of long and short range radars, vision-based cameras, and software algorithms. 112 years prior, the Packard Model F nicknamed the Old Pacific had completed the same journey, setting an endurance record for time and distance. Both cars are truly a testament to Excellence and the continued spirit of Packard Electric.
THE JOURNEY CONTINUES AT DELPHI.COM...

Mysneakers | Air Jordan Sneakers