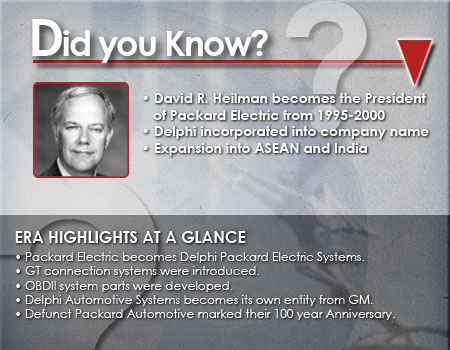 PACKARD ERA OVERVIEW
One of the largest changes of the early 90s was the evolution of the Packard Electric name; and the re-branding of the company as Delphi Packard Electric Systems after a name change by Packard's Automotive Concepts Group to Delphi Automotive Systems. Ever growing, Delphi Packard surpassed five billion dollars in total sales early in the era and also continued expansion in China and India. Packard Delphi would go on to develop new products for OBD2; a second generation On Board Diagnostics system that was made standard after 1996 in all vehicles. The latest in connection innovation was launched as GT Connection Systems; offering one of the lowest engage forces in the industry. By 1999, Delphi Automotive Systems separated from GM to become their own entity. 1999 also brought the Packard Centennial event for the defunct Packard Motor Company.

NEW BEGINNING WITH A SOLID FOUNDATION - DELPHI BEGINS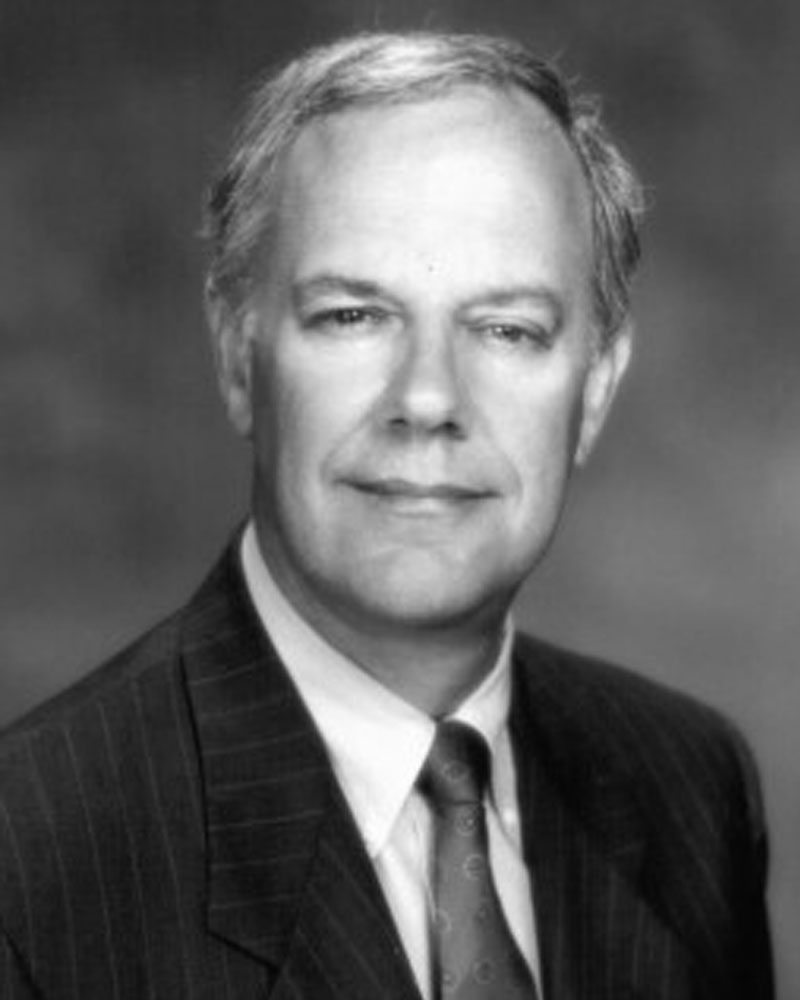 From 1991 to 1995, Packard operated as a division within the General Motors parts segment, Automotive Concepts Group, also known as ACG. In 1995, ACG changed its name to Delphi Automotive Systems to help establish its brand as a premier global automotive component supplier. As a result, the name Packard Electric changed to Delphi Packard Electric Systems. This would mark the first change away from the Packard name being used independently within the company. Delphi Packard Electric Systems would eventually drop the Packard brand name altogether, at least externally, to simply 'Delphi', with provisions stemming from the new branding.
Between 1995 and 2000 David R. Heilman took leadership of Packard Electric. A native of McDonald, Ohio, Heilman held a bachelor's degree in electrical engineering from Purdue University and a master's degree in business administration from Kent State University. He began his career with Packard Electric in 1964 as a trainee and served in a number of engineering and production positions over the next eight years. After graduating from Kent State University, he was named general supervisor of quality control and one year later, he became staff project engineer. In 1976, he was named superintendent of manufacturing, and served as superintendent of reliability in 1977, being named manager of reliability later that year. Seven years later, he was named Director of Packard International. In 1993, he was appointed director of Packard's North American Business Unit, and one year later, he was named general manager of Delphi Packard Electric and a General Motors Corporate vice president.
Packard continued its expansion in 1995 with facility openings in India, as global sales surpassed $5 billion USD. Innovations produced high tear silicone cable and low resistance inductive wiring core. This revised ignition cable utilized a high tear

silicone insulation and jacket which allowed for durability and performance with maximum energy being delivered to the spark plug while maintaining high levels of radio frequency interference suppression. 1996 saw the development of new products for On Board Diagnostics systems (

OBD2). The development of the OBD2 system allowed drivers to access all vehicle electronic information, parameters, and engine computer programming through a single diagnostic port mounted in a uniform position. This live system access eased troubleshooting during part failures and further real time monitoring allowed emissions checking to scan for all federally required items. OBD2 would become a standardized electronic system of vehicles globally.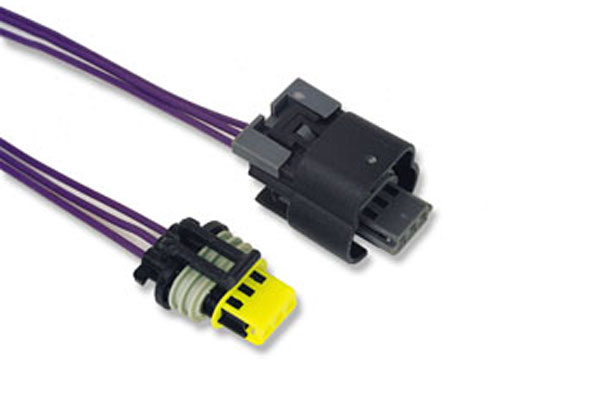 In 1997, the GT Connection System was designed with global customer input at every phase. It was designed with a tangless terminal end had one of the lowest connector engage forces in the industry. The pump handle locking device not only guaranteed positive connection but also featured a secondary lock and was ISO and SAE compatible for blade sizing. Packard also began producing

5mm-cable, which would mark the smallest diameter ignition cable produced by Packard.
It was also in 1997 that perennial NASCAR champion Jeff Gordon won the Winston Cup using a Delphi Packard ignition system. Delphi Packard teams won 17-31 races and finished top 3 including two other top 10 spots. 96,000 total miles were traveled without failure.
1997 was also the year that Packard North America became the first region to achieve QS9000 certification through GQS - a full year ahead of schedule. QS9000 was a quality system standard that was developed by a joint effort of General Motors, Ford Motor Company, and Chrysler. The quality system focused around maintaining high industry standards in automotive related manufacturing process and customer specific needs.
Quality continued in 1998 as Packard introduced

scondary-lock features for boot and nipple connections (BPA - Boot Position Assist and NPA- Nipple Position Assist). This was another step forward in connection reliability for the brand. In 1999, terminals with welded seams and improved snap ring designs for better tactile feel and retention were developed. Packard began the use of

laser welding technology for joining small components within the terminal ends to ensure smooth transitions and cleaner bonding.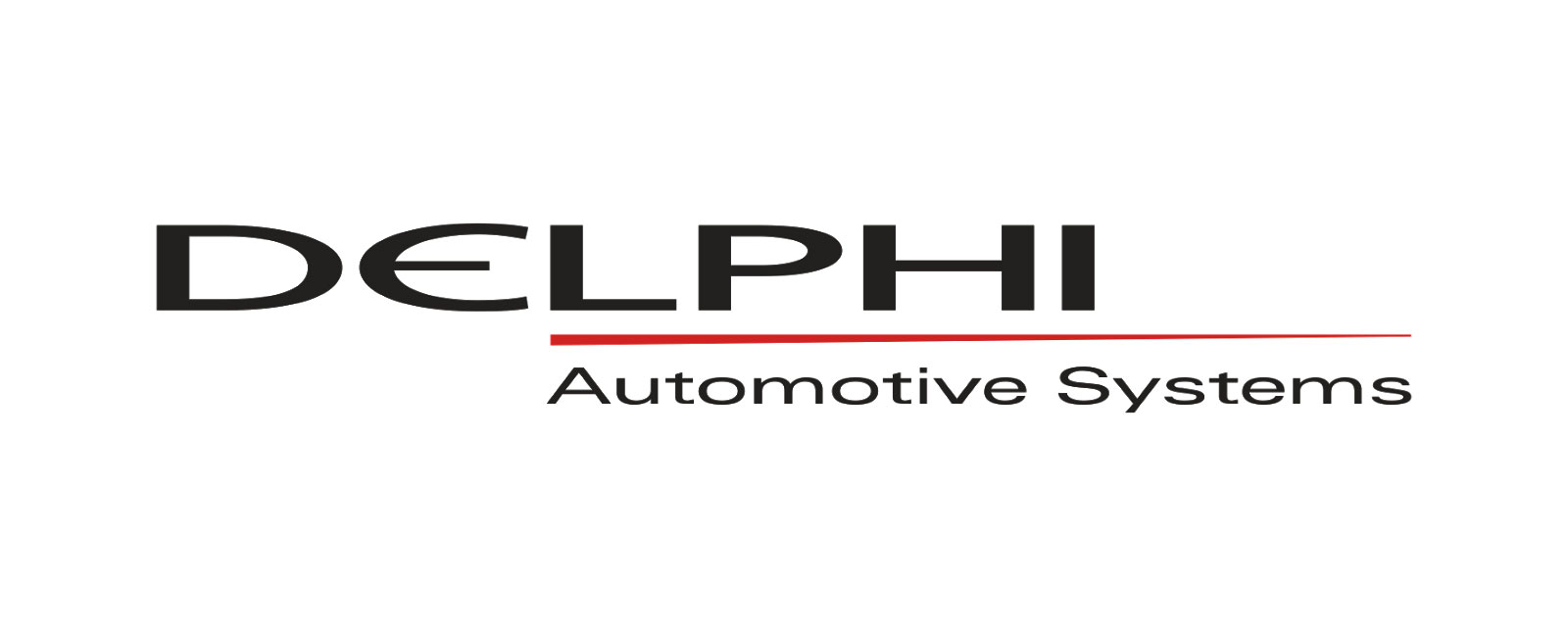 Then in 1999, Packard, as part of Delphi Automotive Systems, was spun off from General Motors to become a separate entity. The move was 8 years in the making, beginning in 1991 with the consolidation of General Motors many separate parts operations into its Automotive Components Group, of which Packard was a part. At the time, ACG sales topped $19 billion, but the unit still posted losses partially as a result of many non-core business operations. Units of ACG that sold vacuum pumps, radiators caps, small motors, generators, etc were sold off, while electrical systems, powertrain, environmental, safety, and seating operations were retained. This consolidation and restructuring better positioned ACG, and a new headquarters was established in the suburbs of Detroit, Michigan in the city of Troy. In 1995, ACG was branded as 'Delphi Automotive' to help establish its brand as a global parts supplier to not just General Motors, but other customers as well.
PACKARD MOTOR CAR UPDATE


On July 4th, 1999, Packard auto enthusiasts celebrated Packard Automotive's

100 year anniversary. The gathering was held at Packard Park in Warren,Ohio, and the National Packard Museum, which coincided with the 26th annual museum car show. For the special occasion, Packard enthusiasts from all over the world gathered with the goal of having a vehicle from every year available for public display. This would mark the largest gathering of Packard vehicles ever assembled in one place.
CONTINUE ON TO THE NEXT ERA...

Sports Shoes | Air Jordan 4 University Blue New Era Bulls Hat