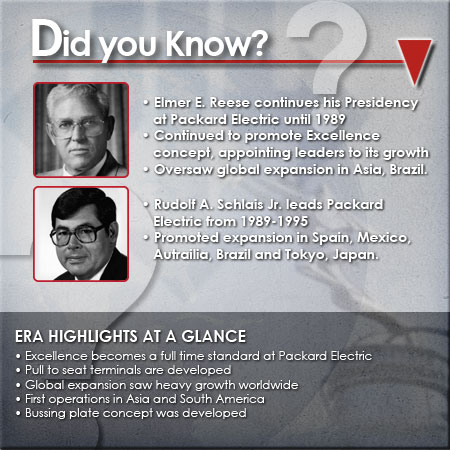 PACKARD ERA OVERVIEW
In 1985, Packard President Elmer Reese officially announced "Excellence" as the corporate culture of Packard Electric. Excellence would be the predecessor to the Packard Principles, and would further define the structure and behavioral expectations behind how Packard Electric would operate. Pull-to-seat terminal connections became the new standard of plug and harness design. Expansion also continued with further plant openings in Mexico, Ohio, and Mississippi. New operations and joint ventures began in South Korea as an Asian footprint was established. Facilities in Brazil, Japan, and Australia gave Packard a presence on five continents, and by the end of 1989, Packard Electric was a true worldwide competitor.

TRAILBLAZING TOMORROW - THE ADAPTATION OF EXCELLENCE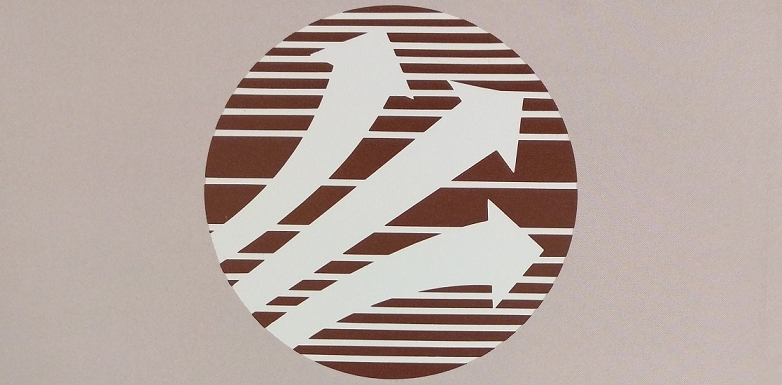 In 1985, Packard President Elmer E.

Reese officially announced "Excellence" as the cultural philosophy of Packard Electric. The concept was a continuation of the Packard Principles, and was determined by a committee gathered to define the actions that would best capture the idea of Excellence. Excellence would become the standard for conducting all business internally and externally with Packard. Reese appointed William C.

Wehmer the Director of Excellence, who guided Packard Electric's development of the Excellence concept throughout the remainder of his career. Bill made sure that the Excellence concept was not just another training program, but rather an entirely new way of thinking and approaching business. Bill had previously been instrumental during the development of the Packard Principles, and took the evolution of the concept very seriously. Similar to the Packard Principles, the

Absolutes Of Excellence defined behavioral expectations for every employee in the company.
The Absolutes of Excellence*:
Your Customer: The focus and the reason for Excellence is your customer. Your job continues only as long as you satisfy your customer.
Do it Right the First Time, Every Time: This is our goal, and we will only get what we expect of ourselves.
Innovation and Continuous Improvement: This is the method by which we are moving toward Excellence. We are seeking better, innovative ways. Continuously.
Customer Feedback: Adjustments are made and progress measured by feedback. This is our control. We should provide feedback to our suppliers and seek it from our customers.
Caring: People who care about their efforts ans about each other will succeed.
Recognition and Security: This are the rewards of Excellence.
*A seventh absolute "Teamwork", was added later.
Early adopters like Patrick G.

McCart, a manufacturing innovator, implemented a total quality philosophy in the Mississippi Operations. McCart's convictions to following this philosophy earned him a spot in the Excellence Hall of Fame for his commitment to its principles.
Continued expansion in Ohio saw Plant 43 open in Austintown and Plant 46 opened in Cortland. Mexico expansion continued as Rio Bravo III opened as Plant 34 and Rio Bravo V opened as Plant 38. IUE Locals 698 and 718 ratified local contracts providing jobs and income security.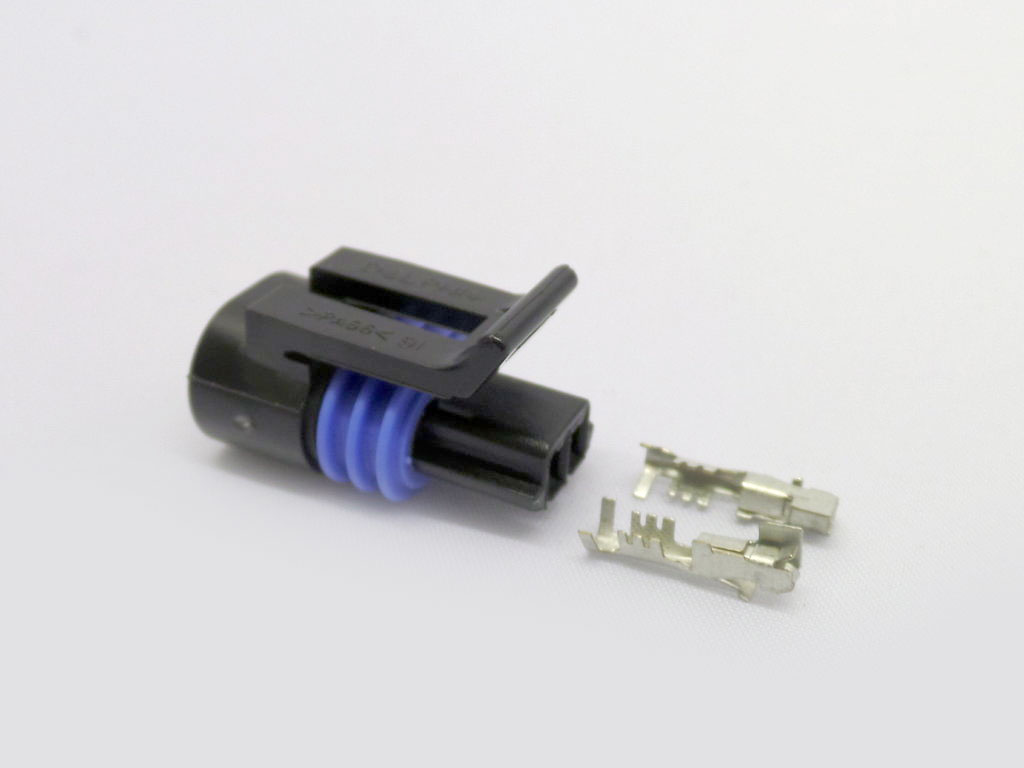 Also in 1985, pull-to-seat terminals solved problems with poor seating. Sealed connectors required a new pull-to-seat assembly process. Pull-to-seat terminals allowed for a new process during terminal construction; in which the wire leads are drawn through the entire terminal before being stripped and having the metal connector end crimped on. Once the metal end had been fastened; the wire was pulled back into the terminal, locking the metal connector end into place with a physical seating. This process was repeated with all remaining wires. A loop over hook terminal body end further promoted a strong connection between male and female terminals.
1986 saw further expansion as Packard opened Plant 51 in Casas Grandes, Mexico, as well as Plants 52 and 57 in Chihuahua, and Plant 55 in Delicias. 1986 was also the year that Packard established a presence in Asia Pacific with the Shinsung Packard Company, a joint venture in South Korea.
Expansion in Europe continued in 1987 with Packard Electric Burgenland GMBH opening in Austria. In Mexico, Packard opened Plant 56, Chihuahua II. Expansion in Asia Pacific continued with a joint venture with Daewoo in Korea. 1987 was also the year that the Global Excellence Training Center was established to offer training in support of Excellence.
In 1988, Packard Brasil was established as the first South American Operation, and the Packard International business unit was created. Packard also opened a customer service center in Tokyo, Japan, further increasing its presence in Asia Pacific. Local expansion also continued at Plant 47 in Vienna, Ohio. Packard's North River Road operations also received the addition of Plant 49. Further south in Mexico, Plant 58, Meoqui and Nuevo Laredo were the site of Plants 81 and 82. In Nuevo Leon, Guadalupe I, Plant 83, opened. European operations were also expanding as Castello Branco began its operations in Portugal.
Between 1989 and 1995 Rudolph A.

Schlais Jr. took leadership of Packard Electric. Rudy was a native of Hubbard, Ohio, and began his career at Packard in 1960. He completed a variety of assignments during his two previous stints at Packard, including Director of Engineering from 1981 until 1984, before returning to the division to succeed Elmer Reese as General Manager on July 1, 1989.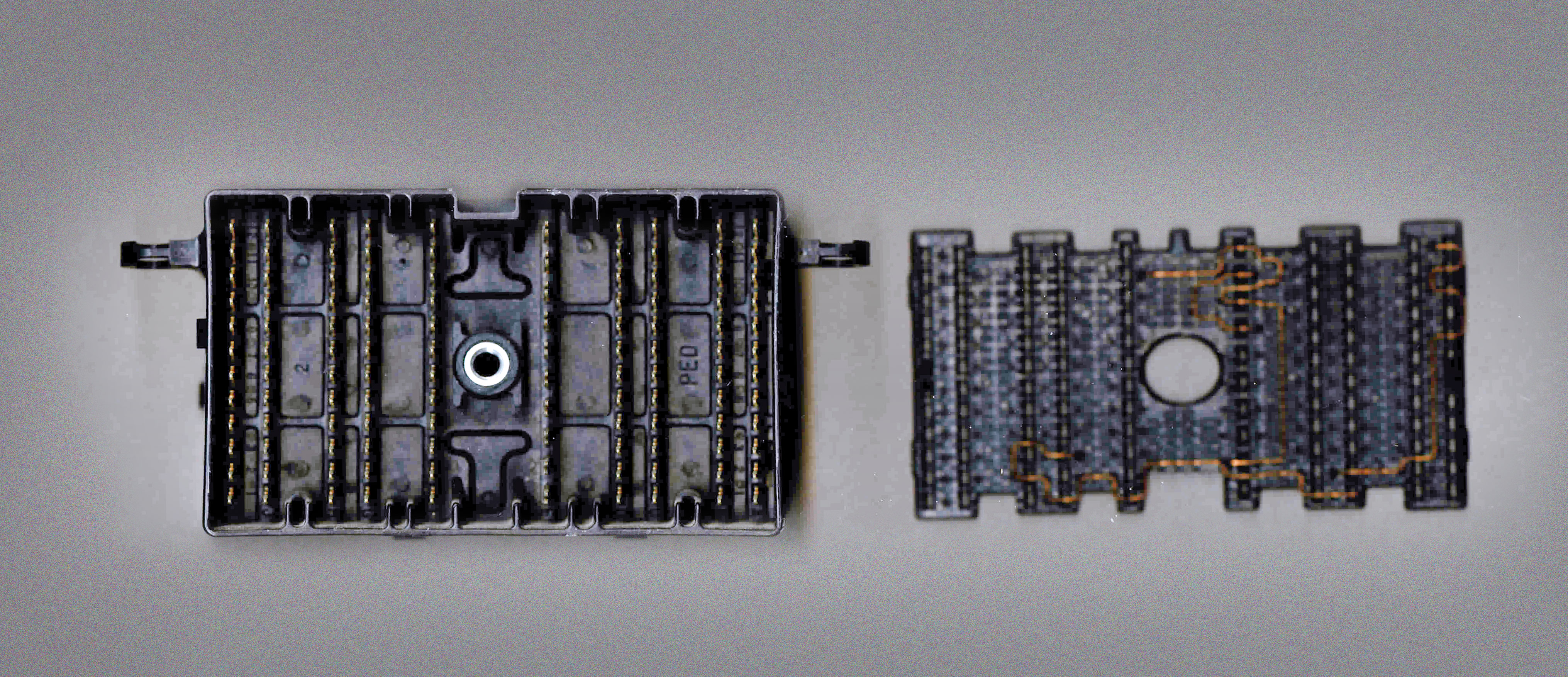 Innovation continued as Packard's patented "Bussing Plate" provided a 118-contact connection system, creating a common circuit. The bussing plate was a multi-piece sandwich style system of electrical routing that used layered plastic plates with printed circuits to connect the desired terminals on a 118 point grid. The plates allowed for both high and low current bussing separations. The plates were applied underneath the main fuse panel of an automotive fuse box; a place with high terminal connection totals and low space for internal wiring.
1989 was also the year that Plant 26 began production in Brookhaven, Mississippi and Plant 27 opened in Clinton, Mississippi. Plant 37, Conductores III, and Plant 85, Sabinas Hidalgo, opened in Mexico, and in Spain, Tarazona began production. Guadalupe II (Plant 84) opened in Guadelupe, Nuevo Leon, Mexico. Sabinas Hidalgo (Plant 85) opened in Sabinas Hidalgo, Nuevo Leon, Mexico, and Packard CTA, a joint venture with Carthew and Travaglini (Pty.) Ltd. in Ararat, Australia, was formed. Packard do Brazil announced a joint venture with Ericsson of Brazil to produce components in Sao Jose Dos Campos, Brazil, and Packard's Asian Technical Center was established in Tokyo, Japan. By the end of 1989, Packard was now operating over 20 different locations on 5 continents with an employee headcount of close to 55,000.
CONTINUE ON TO THE NEXT ERA...

latest Running Sneakers | Monsters Inc's Mike and Sully Surface on Special-Edition Stan Smith , Sciaky