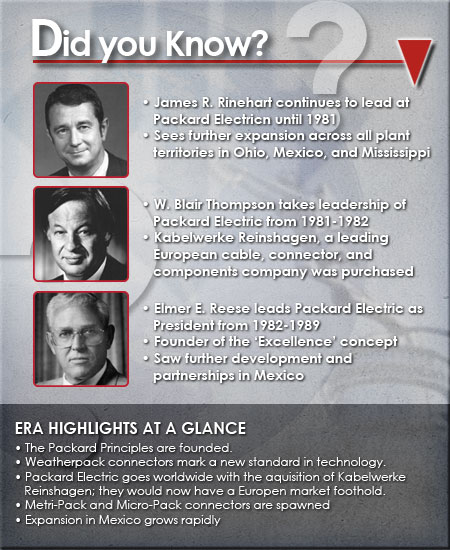 PACKARD ERA OVERVIEW
The Packard Principles, a structured way of doing business, became the standard for all undertakings going forward with the company. Utilizing this standard, Packard Electric would develop a series of connectors, starting with the Weatherpack; a product that would become the basis of many new innovations going forward within the sealed connection marketplace.  
The push for global expansion continued with the creation of three new plants in Mexico. The acquisition of Kabelwerke Reinshagen allowed Packard to put roots down towards European expansion, adding manufacturing facilities in West Germany, Portugal and Spain. Three other plants were opened locally in Warren, Cortland, and Austintown, Ohio.
As the Packard Principles guided this expansion, a strong focus on the customer was emerging, and slogans like 'do it right the first time, every time' set the groundwork for what would ultimately become known as the 'Absolutes of Excellence'.

THE PACKARD PRINCIPLES - GOING GLOBAL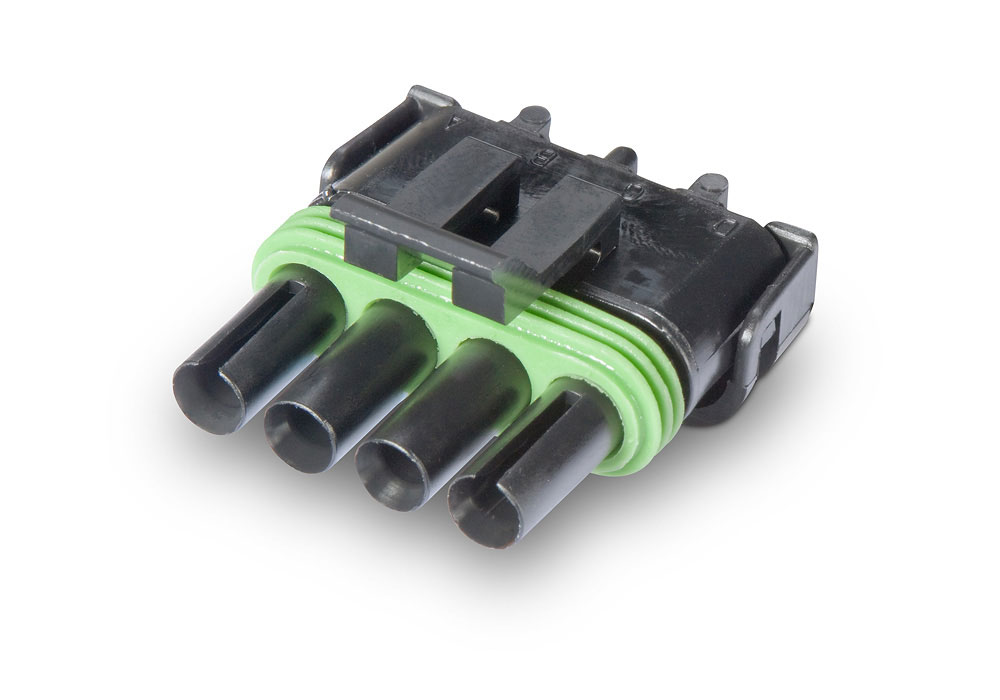 With Packard's guiding Principles now in place, innovation continued in 1979 with the Weather Pack connector; the first use of low pressure environmental seals. This set the industry standard for sealing technology. Weather Pack was Packard's first connector developed with the ability to sustain the presence of water and moisture or other form of liquid around the terminal ends. This was accomplished by a new design of male and female connector ends and the addition of a rubber gasket around the perimeter of the connector. These would spark development for all later Packard connector designs, including the Metri and Micro Pack styles.
Mentors such as Kenneth A.

Hoffman taught the importance of customer focus in Application Engineering. Kenneth was responsible for the

mentoring over 50 engineers, including chief engineers, over the course of his years with Packard. His main teachings were that of maintaining a strong customer focus, an aspect tied tightly with the Packard Principles and today's Excellence culture. In recognition of his actions, Kenneth would become a member of the Excellence Hall of Fame.
1980 was a busy year for plant openings and operations, including the birth of IUE

Local-698 which was organized and recognized as the bargaining agent for the hourly employees at Packard's Mississippi locations. Plant 43 in Rootstown opened, closed in 1982, but reopened again in June 1985 as Plant 7. Plant 41 on Thomas Road began production in 1980, and Plant 42 opened in Hubbard, Ohio as well. Austintown, Ohio was the site of the newest Packard plant, known as Plant 44 on Victoria Road and began production in March of 1980. Plant 24 opened in Clinton, Mississippi, and Rio Bravo, Plant 32, opened in Juarez, Chihuahua, Mexico. Donald R.

Dedow was a key player in developing Mexico as a global partner in the late 1970s and early 1980s. From 1978, Don Dedow created and championed the lead prep strategy at Packard. This venture facilitated the partnership with the Mexican Operations in 1980.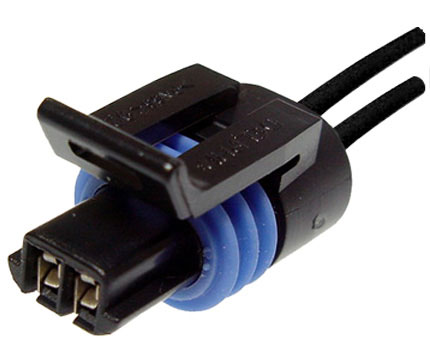 1980 was also the year that Michael S. Mamrick, Packard Electric's expert in contact physics, led Packard's entry into the era of electronic interfaces. Michael Developed the environmental (5V low energy) sequence test that provided a means of design validation for these new electronic interfaces. The first application of this was for the Cadillac "Tripmaster" wiring. He also provided the basic design for the "crossed-rod" means of measuring the interface resistance of a crimp in a non-descriptive manner. This was critical to ensuring the reliability of the manual "solder-reflow" process that was initially being used in manufacturing. Mamrick also pioneered the basic ground work for design of electronic interface terminal "crimping". Afterwards, Michael developed the "10 RC" (10 times contact resistance) measure and classification of interface stability which is used to reflect the expected long-term stability of an interface. Wire Connection reliability was also improved in 1980 by the Metri-Pack system. The Metri pack system offered a high current capability with a low engagement force. These systems were designed to maximize material properties and offer both pull and push to seat engagement designs. These would later be offered in sealed and unsealed versions. The connectors utilize international male blade sizes for global applications. The Metri-Pack also benefited from Connector Position Assurance (CPA) and Terminal Position Assurance (TPA) technologies to ensure a correct and solid bond for increased connection reliability.
Between 1981 and 1982, W. Blair

Thompson took leadership of Packard Electric. W. Blair Thompson, born in Petoskey, Michigan, began his career with General Motors with Saginaw Steering Gear in 1945 as a cooperative education student at General Motors Institute. He graduated from GMI with a Bachelor of Science degree in Industrial Management as a Sloan Fellow at the Massachusetts Institute of Technology. At Saginaw Steering Gear, Thompson advanced in the Engineering Department from Detailer in 1949 to Junior Designer in 1950 and Designer in 1952. Later that year, he became Project Engineer and was promoted to Senior Project Engineer in 1956. Named Assistant Chief Engineer in 1957, he was appointed Chief Engineer of that division in 1966, serving in that capacity until his promotion to General Manager at Delco Products in 1974. Thompson succeeded Jim Rinehart as General Manager of Packard Electric in January 1981, and would oversee Packard's initial expansion into Europe with the acquisition of Kabelwerke Reinshagen.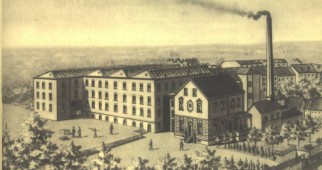 In 1981, Kabelwerke Reinshagen was acquired by Packard, adding manufacturing facilities in West Germany, Portugal and Spain. With a history even longer than Packard Electric (Reinshagen was founded in 1874), the acquisition allowed Packard to put roots down towards European expansion. Packard would use this German headquarters to further branch out overseas while expanding product capability and resources. Dr. Frank

Gothe was the driving force on Reinshagen's board to initiate the acquisition of Reinshagen, though which Packard gained automotive power and signal distribution and other manufacturing operations in Europe. Through 50 years of service, Heinz Altemann had previously led Reinshagen from cable manufacturing to leadership in automotive technology. He was one of the first individuals to introduce modern connectors to the European automotive market, and the ground work laid by Altemann enabled Dr. Frank Gothe to initiate the acquisition of Reinshagen. Gothe was Chair of the Board for Reinshagen during that time, and through his business savvy, convinced General Motors and the owners of Reinshagen that the acquisition would greatly benefit both parties. Beyond this initial expansion, it was Lothar

Kaiser who would help execute the growth of Packard throughout the rest of Europe. Kaiser was one of the primary individuals at Reinshagen who had set up the strategy to transfer technology between Europe and the United States. He was also the visionary for the expansion of Packard Electric beyond Germany into seven other countries. He often shared with others his global vision and pioneering spirit.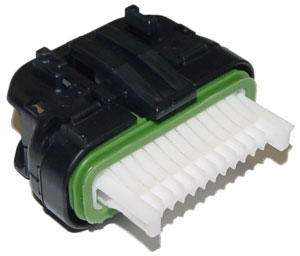 Part of the key technology to help drive that vision was the 1981 invention of the Micro-Pack 100, a family of electronic connection systems designed to meet the needs of low-energy, high density applications. The Micro Pack system allowed for smaller spade and female sizes focusing around pin type technology. These features improved female connector ends and also were offered with mechanical assisted connections (bolt in). They were also offered in both sealed and unsealed styles while also applying the CPA and TPA position and terminal assurance technologies, the sealed versions being ideal in commercial vehicle and marine applications.
Between 1982 and 1989 Elmer E.

Reese took leadership of Packard Electric. Like the founder of Packard Electric, Elmer graduated with a Bachelor of Science degree in mechanical engineering from Lehigh University. He completed Executive training programs at M.I.T., Ohio State University and Harvard Business School. Reese became a trainee in 1952 with the Delco Appliance Division in Rochester, New York, and senior project engineer in 1958. Advancing to product manager for windshield wiper systems, he was transferred to the GM Delco Products Division in Dayton, Ohio, where he became staff engineer for auto electrical products. In 1970 he was named chief engineer of Delco Products Division and in 1973 was advanced to general sales manager. He was later transferred to Delco Remy Division in Anderson, Indiana, and held the position of chief engineer until named general manager, September 1, 1978. In 1982 he was named President and general manager of Packard Electric, from which he retired in 1989. During his career, Reese received over twenty patents for automotive components, and was famous for his mantra of, "Do it right the first time, every time", a slogan which, in 1985, found its way into the sequel to the Packard Principles, the Absolute of Excellence.
In 1982, Packard entered into a joint venture with

Condumex in Mexico. Condumex was a provider for multiple heavy duty and industrial applications; specializing in wire, cable, and transformer equipment. Additionally in 1982, Plants 15 and 16 were added to the North River Road complex, and further South, IUE Local 718 was organized and recognized as the bargaining agent for the hourly employees at Packard's Brookhaven, Mississippi locations. 1983 saw continued expansion in Plants 17 and 18 at the 

North River Road Complex, and further development south of the border saw Cableados, Plant 33, opened in Mexico.
Inching closer to the 1985 release of the Absolutes of Excellence, it was James A.

McGee in 1983, a champion of the customer's needs, who emphasized the idea of "building it right the first time, every time." James was also a man who shared his vision with others. He had a work ethic that kept the customer and the community as the top decision making priorities. Innovations like

T-Locks (1984) were developed to protect customer interests. This secondary precaution against disconnection worked like a bolt-in-loop lock, and improved connection assurance qualities. McGee's dedication to the customer helped form Packard Electric's vision of "exceeding our customer's expectations", as he believed in giving 100% effort in all that he did.
PACKARD MOTOR CAR UPDATE


In 1980, the Packard Motor Corporation Building in

Philadelphia was added to the National Register of Historic Places, but it was in 1983 that history was made. It was Packard Museum founder Terry Martin, who, in 1983, recreated the San Francisco to New York City run in an unrestored 1903 Packard Model F to mark the 80th Anniversary of the

Old-Pacific's Transcontinental Run. Terry wanted to mark the anniversary of the Tour of Endurance by driving his own personal Packard on a similar cross country route. He and a friend traveled with the Packard to the beaches of San Francisco and backed his unrestored Model F into the sand, signifying the start of the journey. Days later, Terry drove the Model F right onto the set of the Today show in New York city. Although the Packard suffered no failures along the trip, the newer chase vehicle broke multiple times! This vehicle can now be found in the National Packard Museum in Warren, Ohio.
CONTINUE ON TO THE NEXT ERA...

bridgemedia | Women's Nike Air Max 270 trainers - Latest Releases