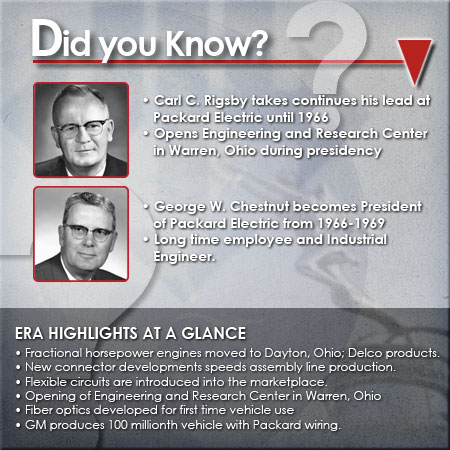 PACKARD ERA OVERVIEW
While the Packard Motor Car era came to an end in 1959, Packard Electric continued to push full steam ahead with the development of new products while expanding to new locations. Consolidation with Delco further expanded Packard into the small motor market, and the Warren, Ohio based Engineering and Research Center is opened and brings new technology to the automotive forefront. The use of fiber optics is introduced to passenger vehicles, while Packard Electric provided the wiring for General Motors 100 millionth vehicle produced. Flexible printed circuits are invented, and Pack-Con connection systems allow for easier and cheaper assembly. This growth would soon lead to global expansion, creating a company which would not only become a national leader in electronics; but a force to be reckoned with worldwide.

GROUNDED ROOTS - PACKARD ELECTRIC CONTINUES TO ADVANCE


In 1961, Packard's fractional horsepower electric motor business was moved to Dayton, Ohio, signaling consolidation with Delco Products. This move further expanded production in the small motors segment. Warren expansion continued with additions to the North River Road complex, as Plant 11 was brought into service.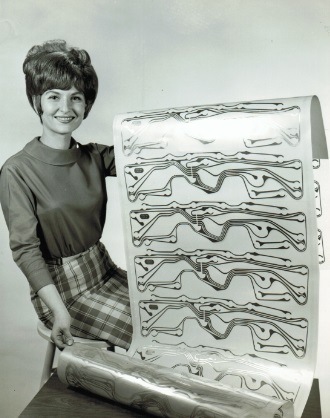 In 1962,

Bulkhead Connectors allowed automotive wiring harnesses to be more easily connected at vehicle assembly plants. These connectors allowed terminals to be mounted in large groups at firewall or bulkhead provisions of a vehicle. These bulkheads were typically reflected any large separation augmented by a wall; generally steel, and potentially insulated. Bulkhead connectors are found between the engine bay and passenger compartment of a vehicle and hold multiple strands of wire. Modern vehicles continued to utilize this concept, with the passing of over 100 wires through a similar style connector. This also allowed the body of the car to remain out of way longer during assembly; often allowing more room and faster processes during construction.
1963 saw Packard Electric introduce flexible printed circuits for use in instrument panels. These printed circuits are common in modern electronics like computers and phones, where hundreds of connections must be made, but space is limited; but it all started with Packard's use of these panels for instrument clusters. Usually found in ribbon form, these circuits feature flexible plastic like backing and a copper inlay of wires that are printed or pressed. Unlike solid boards; flexible circuits are used for primary connections rather than the mounting of circuit. They are also very durable, and are able to withstand more moisture.
To keep Packard's innovation engine moving, the

Engineering and Research Center opened in Warren, OH in 1964. The center was, and still is, a driver of Packard development, housing a full engineering and development staff. In 1965,

Pack-Con Connection systems were introduced. These systems allowed more circuits to be connected by a single connector. These connectors bridged the gap between larger bulkhead connectors and single item connectors. Pack-Con connections could be found where multiple source leads came from a common area, and needed to connect to the main harness. This eliminated the need for extra plug and terminal ends to complete a circuit, thus streamlining production process and costs for manufacturing and assembly.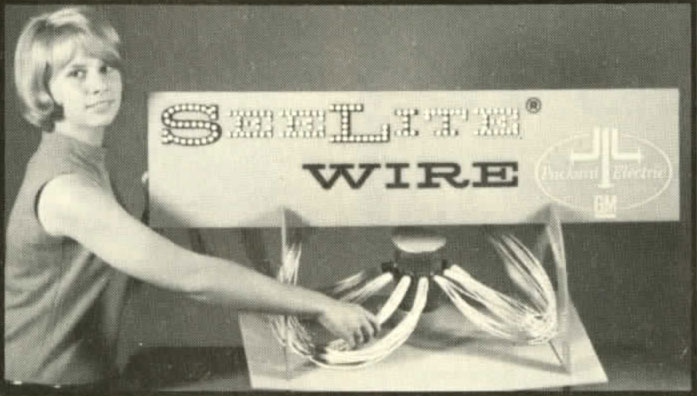 In 1966, Packard Electric was first in the development of low cost fiber optics for use in automotive applications. The innovation used a process of light reflection and refraction to transfer light or information from one end of the cable to the other. Although shielded differently depending on general use, fiber optics are still found in home appliances, advanced electronics, high speed cable service, and automotive applications. In the late 1960, fiber optics were used in GM vehicles to link the running lights of a vehicle to a display panel inside the car; so the driver could see if the lamp was actually working. Turn signals and headlamps also used this feature.
1966 was also the year that Packard supplied the wiring system for GM's 100 millionth US vehicle. Although a seemingly odd choice for a benchmark vehicle; General Motors rolled a blue on blue 1967

Chevy Caprice 2 door hardtop across the assembly line, to mark the 100 millionth vehicle produced by the company. In 1966, GM was strongly trying to promote the Caprice as a luxury brand, but at a lower cost, so the move made sense from a marketing standpoint. Trivial bits of history also would reveal images of GM promoting a 1966 Oldsmobile

Toronado as its 100 millionth vehicle, including multiple sources showing a Lansing built Toronado in the same trophy blue color. Nevertheless, the Caprice can be found at the Sloan museum in Flint, Michigan, the only one of two vehicles to wear the large 100 millionth badge on its door.
From 1966 to 1969,

George Chestnut, Sr., who developed and led impressive Industrial Engineering practices throughout his career, became general manager of Packard. George W. Chestnut joined General Motors as an hourly employee at Delco-Remy Division in Anderson, Indiana in 1933. Subsequent promotions resulted in his being named a salaried time-study specialist in 1940. In 1944, following service in the United States Army, he transferred to Packard Electric as a supervisor of time-study, and in 1947, was named director of work standards and methods engineering. He became a member of the general manager's staff as director of production control and purchasing in September 1959, and was appointed the Live Wire Division's works manager in 1961. In June 1966, he was promoted to President and General Manager of Packard. Born and raised in Odon, Indiana, Chestnut attended Odon Public Schools and Indiana State University.
CONTINUE ON TO THE NEXT ERA...

best Running shoes | Air Jordan 1 Retro High OG "UNC Patent" Obsidian/Blue Chill-White For Sale – Fitforhealth