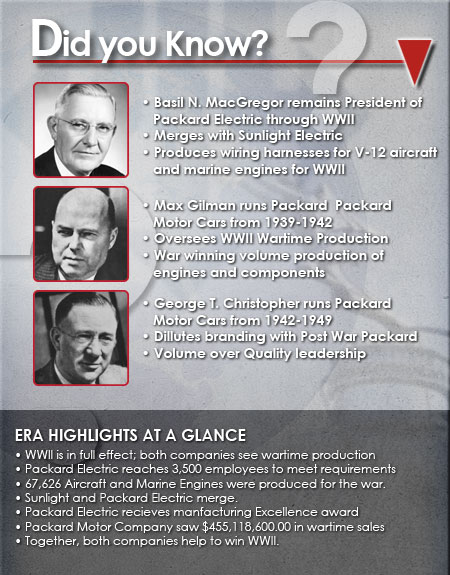 PACKARD ERA OVERVIEW
Both Packard Automotive and Packard Electric would find themselves faced with major changes and challenges as World War II drove each company out of the Depression. Each had retool and scale up production dramatically. While both companies played a part in WWI, it wasn't until the second great war that each were asked to be 100% devoted to war-time production. With both Ford and Chrysler declining the request for more engines, it was up to Packard Automotive to meet the call.
Packard Automotive would see internal growth from 350 employees to over 3,500 employees in a matter of months. New construction and deadline based expansion saw each company put to the test for production quality and volume. Packard Automotive would supply engines to power Allied planes and maritime vessels, including the British Royal Air-force and U.S. PT Boats.
Meanwhile Packard Electric would build wiring harnesses and create new types of wire to be used on aircraft and engines that would power both PT boats and bombers alike. This diligence would see both companies awarded not only military honors in Excellence, but victory for the Allies.

LOCKED AND LOADED - PACKARD GOES TO WAR


After the fall of France in 1940, Franklin Roosevelt began pushing for a major military buildup in preparation for the entrance of the United States to the Second World War. During this buildup, the number of Packard Automotive employees increased tenfold from 350 to over 3,500. Volume orders of Packard Marine engines for PT boats are made. Packard Electric was also heavily involved in the effort, providing wiring harnesses for both the

Allison V-12 and the Rolls Royce

Merline V-12 engines.
In late 1940, with the Royal Air force, decimated by Luftwaffe bombings, the British government requested help from the U.S. to manufacture more V-12 Rolls Royce Merlin engines. The U.S. government contacted both the Ford and Chrysler motor companies, but each declined to attempt the production of the 50,000+ engines needed. Ultimately it was Packard Automotive who answered the call.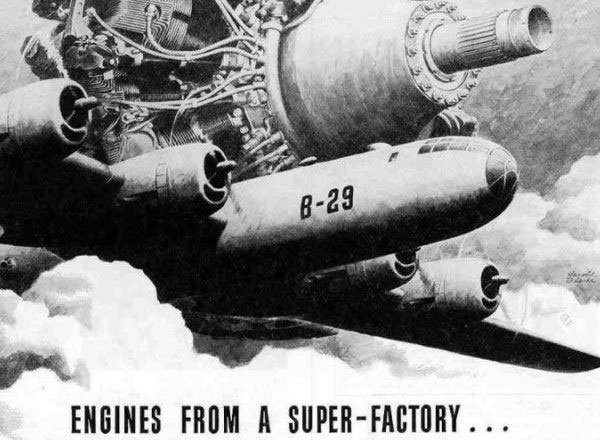 From 1941 to 1945 Packard Automotive produced 67,626 marine and aircraft engines. Over 50,000 of these engines powered the

P51 Mustang, Mosquito, War Hawk, Lancaster and Hurricane aircraft in Rolls Royce Merlin form. Variants of these 12 cylinder V-12 engines were previously used in different applications for setting land and water world speed records. Demand for these engines during the war was so high that they drove what became known as Packard's "10 month miracle"; the building of an all new

Engine Assembly facility to complete the request, from groundbreaking, to production, to delivery. This represented the largest contract, wartime or otherwise, ever seen by the Packard Motor Company.
Packard Electric also switched to war time production, supplying wiring and parts for many military vehicles, such as the

B29 Superfortress bomber, the Lockheed P-38 Lightning fighter plane, and the M4 and M5 tanks. Employment grew rapidly to meet the ever increasing demand. In 1942, Packard Electric developed the first

PVC Insulated Cable, nicknamed 'vinylite', (plastic covered insulated wire to be used in air force equipment) initiating the first use of injection molding for plastic products for vehicle electrical systems. Plastic insulated wiring would be the next step in durability and interference protected wiring for aircraft use. The insulation also increased the strength and durability of the wire.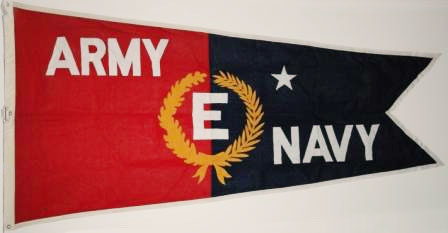 Also in 1942, Packard Automotive received the Army-Navy "E" flag star award for manufacturing Excellence. The 'E' standing for Excellence in production, was only awarded to approximately 4% of all companies that were involved in wartime production or defense schedules. A flag was presented to the participating companies along with pins given to employees in recognition. To increase the significance in company excellence; additional stars were added to the flag for production merit and service to their country.
From 1942 to 1949,

George Christopher was president of Packard Motor Cars. Christopher had helped lead development of the 120 series, and was a man focused on high volume and low cost. While this model was essential to the war time effort needed to build 50,000+ engines, ultimately it would prove a hindrance to the image and exclusivity of the Packard automotive brand. On February 9th, 1942, 

the last Pre-War Packard automobile is built. The machines and assemblies used to produce the

Packard 180 series would never again be used again. Speculation was that the tooling had been sent to the USSR and used for the production of the

ZIS 110; a Russian counterpart that was essentially a reverse engineered Packard Super Eight. Joseph Stalin, then the communist leader of Russia; was a huge enthusiast of the Packard vehicle and had wished to create his own. While the theory of displaced machinery was never proven, design similarities between the two vehicles is unquestionable.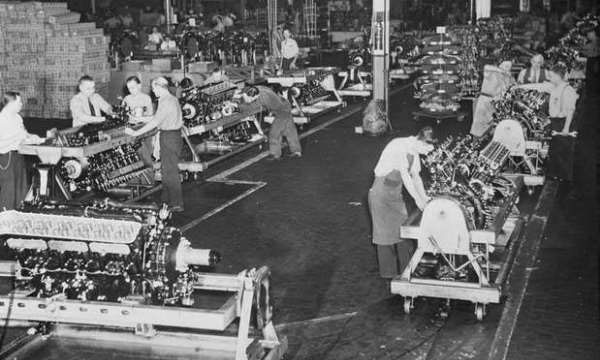 In 1943 Packard Electric and Sunlight Electric were combined. Packard was converted to nearly 100 percent defense production, including wiring for ignition manifolds on Allison V-12 aircraft engines, while Sunlight Electric, which was earlier sold to GM, converged in producing the wiring responsible for providing spark plugs for the engines used in the B-29 and P-38 Lightning planes. At that time, Packard had wartime orders with 651 war time manufacturing plants. This large volume of production helped Packard to earn an additional military honor, with nearly all plants dedicated to wartime production. Total wartime sales in 1944 reached over $455 million dollars, and by the end of the war in 1945, Packard Automotive was ranked the 18th Most Valuable Company in the United States for wartime contract production.
CONTINUE ON TO THE NEXT ERA...

Running Sneakers | Nike SB