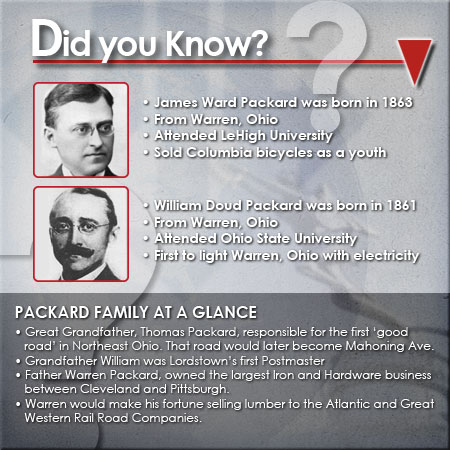 PACKARD ERA OVERVIEW
In 1801, the Packard family settled in Austintown Ohio, and 60 short years later in 1861, William Doud Packard, founder of Packard Electric, was born. His father, Warren Packard had moved from Lordstown Ohio to Warren Ohio in the 1850s to seek his fortune supplying the goods and services that would spawn the American industrial revolution. Warren not only made a small fortune owning and operating hardware stores, lumber mills, iron rolling facilities, and machine shops. He also supplied millions of feet of timber and iron to the Atlantic and Great Western Railroad companies which helped shape the course of a nation. Shortly after the birth of William, James Ward Packard was born. In the same manner that Andrew Carnegie assumed and transformed a fortune built by Tom Scott's railroads, William and James took a strikingly similar course. They inherited a fortune from their father, but instead of high carbon steel, the brothers took to two other revolutions of the time: electricity and automobiles.

BIRTHS AND BEGINNINGS - A GENESIS OF GREATNESS


In 1801, a pioneer named Thomas Packard settled in Austintown Ohio. Thomas was the great grandfather of William and James Packard, the brothers who would eventually found both the Packard Electric and Automotive companies. Foreshadowing the future of the Automotive company, Thomas was elected 'Supervisor of Highways' for the Youngstown Civil District in 1802 and was responsible for improving the old Indian paths and blazing new roads through the wilderness. The first "good road" in northeast Ohio was completed in 1818, known as the Warren- Ashtabula Turnpike, connecting Lake Erie and the Ohio River. This road survives to this day and is currently known as Mahoning Avenue in Warren, Ohio where it passes in front of the National Packard museum.
Thomas Packard's son, William, was born in 1803 and raised in Austintown, Ohio. William later moved to Lordstown, Ohio where he served as its first Postmaster, overseeing the delivery of mail via horseback on many of the same roads that his father built. In 1849, after gold was discovered in California, William made the difficult decision to leave his wife and nine adult children in hopes of returning one day with a prospector's fortune. William's journey by horse-drawn wagon took six months and two of his companions died of cholera before reaching California. William sent many letters to his wife and children, but sadly, they never reached Ohio. After reading a newspaper account of a man named Packard who had been killed by bears, his family assumed William was dead. Hearing no response to his letters, William thought his family had moved on.
Years passed when in 1865, his family was shocked to receive a letter from Kernville, California, stating that William Packard was alive and well. In February, 1874, William's four sons, all grown and all successful men, decided to pay their father a surprise visit in hopes of convincing him to return to Ohio. The transcontinental railroad made travel easier and the sons arrived in San Francisco just seven days after they departed from Warren. The sons then traveled by wagon to Kernville and found their father's cabin. William soon recognized all four sons and wept with joy. William then planned to return to Ohio after selling off his business interests. Sadly, he contracted a fever and died on December 11, 1877, never reaching home.
William's son Warren, who was born in 1828 in Lordstown, Ohio, had himself achieved a great fortune by the time of his father's passing. Perhaps motivated by the great risk and entrepreneurial spirit his father showed in journeying to California. Warren worked 16 hour days and at the young age of 23, he purchased the hardware store from his first employer. In 1852, Warren Packard married Sylvia Camp, who bore two sons who died in infancy. Sylvia herself died in 1856 at the age of 23. Stricken with grief, Warren immersed himself in work, building his fortune over the next four year until meeting and marrying his second wife, Mary Doud, in 1860. She bore two sons, William Doud and James Ward, and three daughters, Alaska, Carlotta, and Cornelia Olive. William and James would go on to found both the Electric and Automotive companies.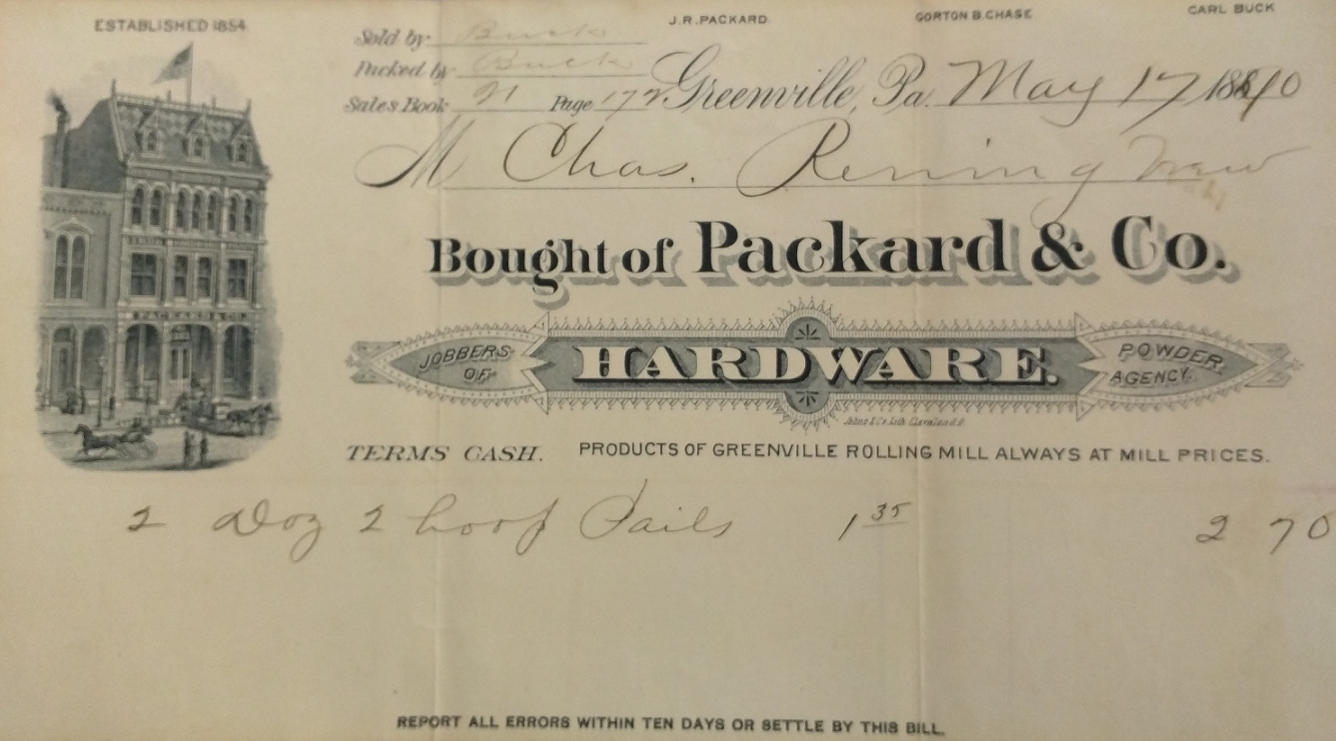 Warren Packard continued to prosper, and by 1863 he owned the largest iron and

Hardware business between Cleveland and Pittsburgh. With his growing wealth, Warren diversified his holdings by building an iron rolling mill and investing in a machine shop and flagstone quarry. He also purchased large timber tracts in several states. Going into the lumber business proved to be highly lucrative for Warren. He made a fortune in the 1860s selling millions of feet of lumber to the Atlantic and Great Western Rail Road companies, helping to connect a nation which would allow for his eventual travel to reunite with his own father in California before his passing. At the time of his death at age 69, Warren Packard was one of the most admired and respected businessmen in all of Ohio. On July 30, 1897, at the hour of his funeral, every business in the city of Warren, Ohio closed out of respect. By then, his sons, William Doud and James Ward, were already crafting a legacy of their own.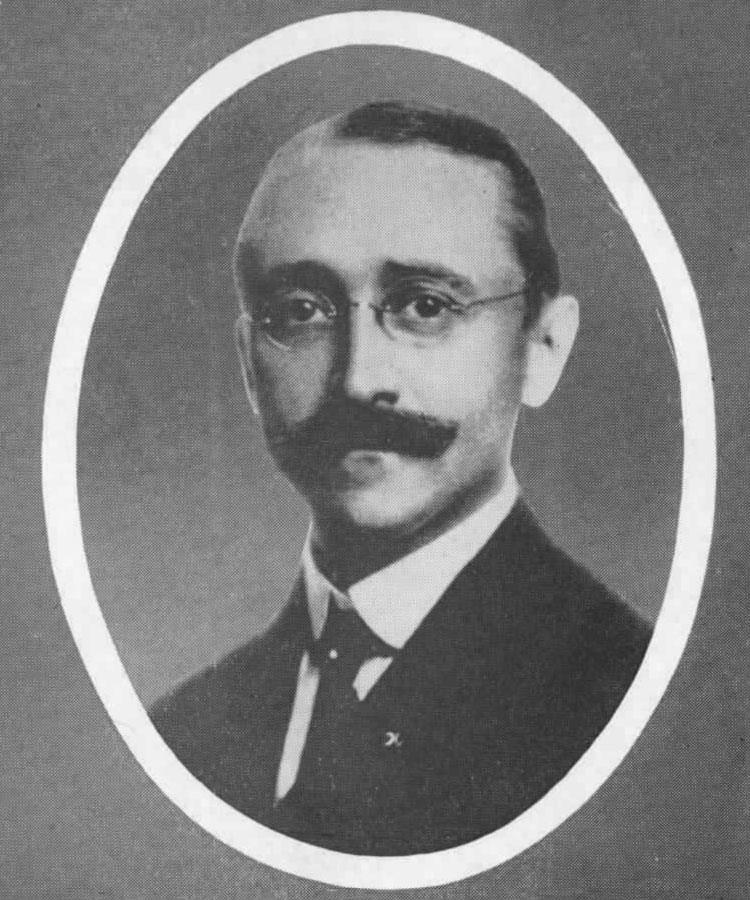 Warren Packard's first son William was born in Warren, Ohio in 1861. His second son, James was born two years later. Both sons were greatly inspired their father's entrepreneurial ways, however, education was important to them as well. They were educated in Warren city public schools and both went on to pursue college educations. William attended Ohio State University for one year before returning to work for his father, from whom he inherited a keen business acumen. He speculated that there was a fortune to be made in an emerging new technology called electricity. In 1886, he purchased an electric dynamo (generator) which he installed in the basement of his father's mansion on Courthouse Park and ran wiring from the basement to the mansion's tower where he strung electric lights. On a cold early spring evening, William created a sensation in Warren, Ohio when he first exhibited his electric lights. The Warren Chronicle reported that "the effect on the snow covered city was beautiful. The power reached was nearly 2,000 candle-light." Unfortunately, William's first venture into the electrical field failed after the City Council rejected his proposal to replace Warren's gas lamps with electric lights, but he remained determined. In 1886, he moved to New York City where he took a position with the Sawyer-Mann Company. Sawyer-Mann was a pioneering incandescent lamp manufacturer. Before William's arrival there, his younger brother James had been employed as foreman of the mechanical department.
From early childhood, William's younger brother James was highly intelligent, inquisitive, and fascinated by all things mechanical. He studied engineering at Lehigh University where he was quickly recognized for his skill with mechanical and electrical systems. In college, James wired the door and windows in his dorm room with switches to open and close and rigged telegraph lines to friends' rooms. After graduating in 1884 with a degree in Mechanical Engineering, he took a position at Sawyer-Mann in New York City. While employed by Sawyer-Mann, he received the first two of more than 40 patents he earned during his lifetime. In 1890, the brothers, both working at Sawyer-Mann, decided it was time to leverage their business experience, engineering knowledge, and family fortune to usher their hometown of Warren, Ohio into the age of electricity by founding the Packard Electric Company.
CONTINUE ON TO THE NEXT ERA...

bridge media | Releases Nike Shoes