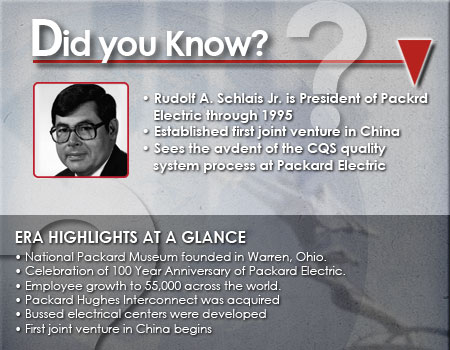 PACKARD ERA OVERVIEW
1990 marked the 100th Anniversary of Packard Electric. Employee headcount topped 55,000 spread out over five continents, a substantial increase from the ten employees who represented the whole of Packard in 1890. Internal changes brought about the formation of the Electronic Architecture program (E/EA) which sought to optimize and unify vehicles electrical systems. A quality systems procedure was put into place for global production and control, and Packard-Hughes Interconnect was acquired by Packard Electric, a company that brought smart products on board along with gold dot and optics technologies. Continued expansion saw the first operations open in China with a joint venture in manufacturing.

100 YEARS OF GROWTH - REACHING OUT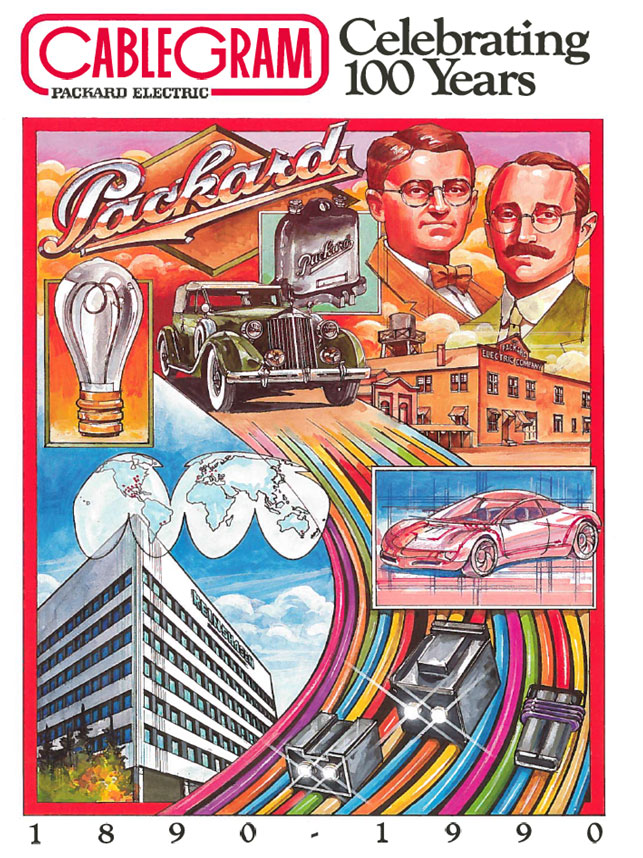 1990 marked the 100 Year Anniversary of Packard Electric, and the company celebrated with the official opening of the National Packard Museum. The museum was designed to house Packard artifacts including Packard personal effects, company historical items, and products including electrical and automotive heritage.
Innovation abounded in 1990 with the development of components for the Angular Based Ignition Timing System (
ABITS). The ABITS system would become popularly known as Opti-Spark; a direct-to-engine camshaft driven distributor that also housed a magnetic/optic sensor and an internal trigger wheel with 360 slots; representing degree points that used mathematical positioning of the wheel to let the engine know when to provide engine spark. This would pave the way for modern cam and crank driven ignition systems used in later GM products. The ABITS was prevalent until 1997-1998 when the first individual coil setups were put into use.
1990 was also the year the
Micro-Pack-100-W, the environmentally sealed version of the Micro-Pack series, was introduced. This was the first 3mm sealed electronic connection. The Micro-Pack 100W was a revised connector design seen previously with the Weatherpack connector series. This allowed for expansion in applications and environmental versatility. Connectors continued to use CPA (Connector Position Assurance) and TPA (Terminal Position Assurance) for superior reliability.
Expansion also continued in 1990s with the opening of Plant 86 in Linares, Nuevo Leon. Anahuac (Plant 87) was also opened in Anahuac, Tamaulipas, Mexico. A third structure; Plant 88 opened in Sabinas, Coahuila, Mexico. In 1991 Packard began manufacturing stamped metal
Bussed Electrical Centers. Additional electrical center innovations follow rapidly and electrical and electronics converge as a new architecture (E/EA). Electrical center technology that was created from plastic bussed electric centers was streamlined through the production of stamped metal pieces. 1991 also saw the production of
Wire Wound Cable. This placed a tightly wound spiral casing made of thin wire before the insulation layer of the cable to be used on automotive ignition systems. This extra layer added to the durability of the wire, preventing the core from being more easily broken during installation and removal.
In 1992,
CQS was initiated as the system to direct what policies, procedures and work instructions need to be followed to meet our customer requirements and quality standards around the world. CQS or Certified Quality Systems was a structured practice of standards and procedures to ensure consistent and managed control over the activities of the company. These would include manufacturing and inspection process along with document recording and history files. The CQS system help facilitate consistent growth and protection from oversights and sub-standard business practice. CQS was the precursor to the concept of the Enterprise Operating System, otherwise known as EOS. 1992 was also the year that low resistance CHT cable was developed. CHT or 'Composite High Temperature' core cable was manufactured in a low resistance version. By interjecting a composite latex layer before the insulation layer, the wire was able to withstand higher temperatures.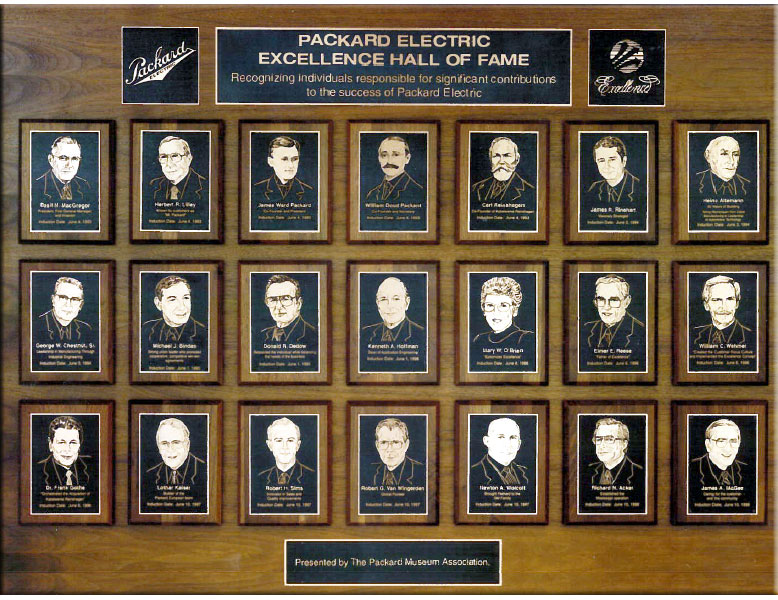 In late 1993 Packard-
Hughes-Interconnect was acquired, providing advanced technologies such as gold dot, fiber optics, and smart products. Packard-Hughes develops and manufactures products, such as high-density, rugged electrical and fiber-optic connectors, electronic assemblies, flexible circuits, and cable assemblies, and their success was born in the area of harsh environment fiber-optic connectors, often used in the broadcast industry. Innovation in the materials science arena continued in 1993 with a patented improved spark plug boot release agent/
Dielectric-Grease. The grease prevented moisture and corrosion from interfering from the ignition process. 1993 was also the year that the Packard Electric Excellence Hall of Fame was established, sponsored by the National Packard Museum. Over 40 employees who have contributed significantly to Packard's success, have been inducted.
In 1994, Packard established its first joint venture in China, Packard Electric Baicheng Ltd. The Baicheng facility provided wiring assemblies for both Audi and Volkswagen at First Auto Works along with components for Mitsubishi vehicles and Fuji Heavy Industry. This venture would be the first of many Packard facilities to come.
CONTINUE ON TO THE NEXT ERA...

Running sport media | Nike News